eSutras Organics Jaggery, Raw and Organic is a low glycemic sugar made from  Non GMO organic sugar cane, in the age old traditional methods as prescribed in ancient scriptures.
This jaggery is unlike any store bought jaggery. We are proud of this fact.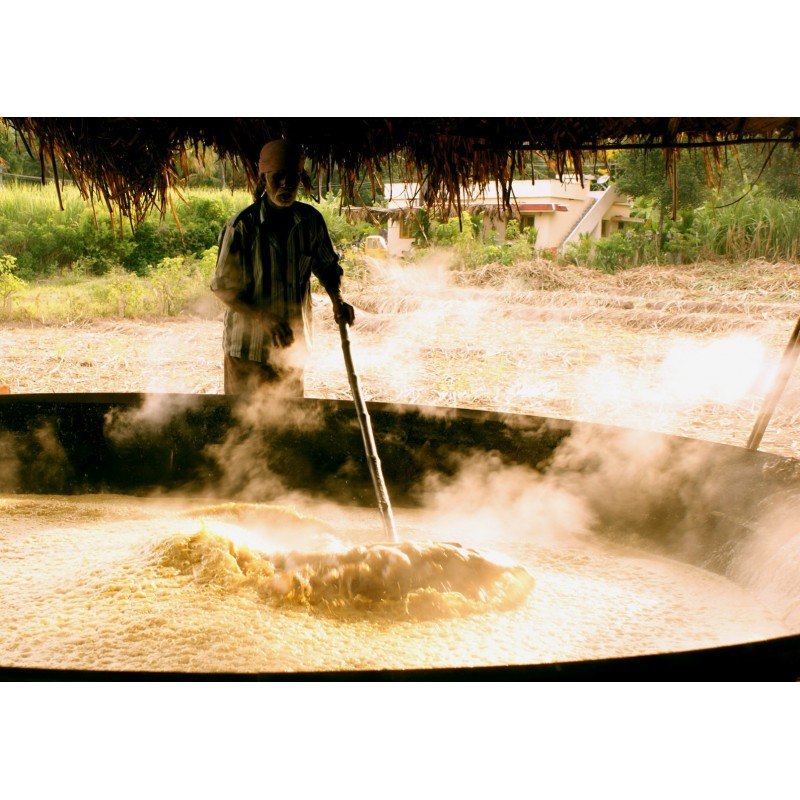 Our jaggery master!
Processed with low heat over a long period of time - much different than most cane sugar. With minimal processing, Jaggery retains minerals that you would never expect in sugar - iron, potassium, and manganese.
Jaggery is also a more complex carbohydrate than refined sugar, meaning the energy released is more level and gradual.
Good source of energy: While sugar is a simple carbohydrate that gets absorbed in the bloodstream instantly and gives instant energy, jaggery is a complex carbohydrate that gives energy to the body gradually and for a longer time.
This means that the levels of blood sugar do not get raised immediately. It also helps prevent fatigue and weakness of the body.
"It is best consumed by itself as a sweet candy or dissolved into a hot or cold water based beverage. Since it is rich in many vital vitamins and minerals, jaggery boosts immunity, keeps the body warm, helps treat cold and cough and controls the temperature of the body. This natural sweetener has been a great go-to ingredient in India since time immemorial."