Drop Ship Organic Products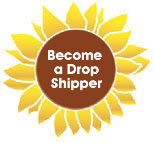 Looking for a way to start a hassle-free business?
Want exposure to hundreds of natural health and wellness products but don't want to carry the inventory?
Want the benefit of a positive cash-flow cycle and the chance to personally tailor a business to suit your own ideas, dreams and desires?
You've come to the right place!
Dropship Organic Products Direct to Consumer, includes Organic Herbs - Spices - Botanicals - Essential Oils - Teas and Organic Food!
eSutras.com offers free drop shipping for bulk, wholesale and retail 100% USDA Certified Organic herbs & herbal products, all manufactured by us in Chicago, Illinois. We offer drop shipping for our privately-farmed herbs, spices, essential oils, vegetable oils and natural culinary ingredients. eSutras specializes in vegetarian, organic botanicals, wholesale organic herbs, healthy culinary oils, herbal teas, spices, spice blends, gourmet food items, natural cosmetics and wellness products.
We are a manufacturer and whole sale distributor that offers the service of shipping single orders directly to your customer. You do not carry inventory, do not take care of shipping and have full access to our complete stock of the finest organic products that money can buy!
Please see our FAQs, Contract (pdf) and Policies for more information.
Register Today
Register to be a regular member of this Web site. If you are already a member, skip to step 2.
Fill out the Drop Shipper Application Form,
Pay for the $300.00 DropShipper (NON_REFUNDABLE) fee when you complete your application.
YOU HAVE TO FOLLOW THE ABOVE ORDER OF STEPS AND BE A REGISTERED MEMBER OF THE SITE TO APPLY
Get discounts off our retail prices and free drop shipping on our luxurious, amazing organic botanicals and botanical products. Start your business today with eSutras and enjoy the ease of success. We can ship direct to you or drop ship to your customer.
Please note that you must have a registered business to participate in the eSutras online drop ship program. We have a one time set up fee of $300.00 for all customers. No other charges. No minimums.
Once your application is approved, you will use your same username and password that you used to register to fill out the application. You will have access to all the pages of the site that relate to the drop shipper's content. You will then be able to place orders on behalf of your customers at wholesale prices. You will need to login to your account every time to do this. You will find ordering information, images, data feeds, instructions, specials, and drop ship orders forms on the members drop shipper page. If you already are approved and have a drop shipper account, login to place your drop ship orders.
Note: eSutras reserves the right to EXCLUDE selected products, promotional items, sale items and or sale prices from our drop shippers and resellers Web sites and from our distributed product data feed.